Magliano
(8 km from the Agriturismo)


The village of Magliano, surrounded by beautiful walls and towers, overlooks the Maremma countryside, full of olive trees and vineyards. Magliano is surrounded by many archeological sites.
Talamone
(29 Km from the Agriturismo)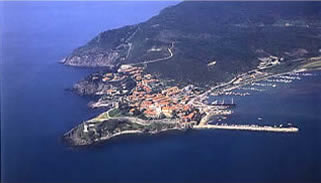 Talamone is a quiet fishing village whose ancient port was the more important of the area and the trading center of the whole hinterland. We recommend you: the fortress built by the Sienese, the walls surrounding the fortress and finally the tower of Capo d'Uomo built by the Spanish.
Capalbio
(17 Km from the Agriturismo
)

Capalbio over the years has maintained its ancient medieval village composed of the castle, loopholes, parapets and walls of defense. You can reache it crossing the hills covered by dense vegetation.
Argentario
(31 km from the Agriturismo)


The promontary is linked to the mainland by two natural strips of land and by an artificial dam. Porto Ercole and Porto Santo Stefano are the two ancient harbors still protected by spectacular fortifications.
Giglio and Giannutri
(30 km + 50 min. of sailing from the Agriturismo)


The Isola del Giglio is caracteriseid, in addition to the beautiful beaches, for the village of Castello, today still intact with its great walls interrupped by circular towers. The Isola di Giannutri is since few years a Marin Park, we reccomend you also to visit the ruins of a majestic Roman villa.
Saturnia
(33 km from the Agriturismo)


Saturnia is certainly one of the most loved destinations of the Maremma. Its natural hot streams, where the water gushes out from the ground at a temperature of 37,5 °, were already appreciated during the Roman Empire, of which we can still admire many testimonies.
Pitigliano
(41 km dall'agriturismo)


Pitigliano sorge su una roccia di tufo circondata su tre lati da burroni. Il paese si svela agli occhi del turista in tutto il suo fascino mostrando l'imponente cinta muraria e l'affascinante acquedotto cinquecentesco dai grandi archi.
Parco dell'Uccellina
(41 km from the Agriturismo)


Pitigliano rises up on a rock of tuff surrounded on three sides by ravines. The village appears at the tourists in all its fascination showing its majestic surrounding walls and its charming aqueduct of the 15th century characterized by big arches.